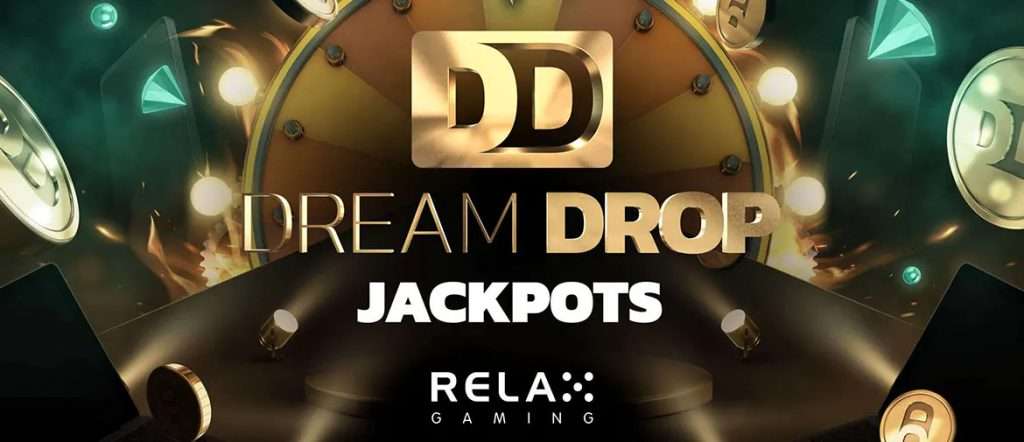 Dream Drop Jackpots – Five unique progressive global jackpots on offer!
Who wouldn't like to hit a massive jackpot, right?
Jackpot slots have been popular in both land-based and online casinos as long as casino slots have been around.
The most well-known online jackpot slots include games like Mega Moolah, Mega Fortune, Hall of Gods, and Mega Fortune Dreams, to name a few.
Game studio Relax Gaming decided that it was time for us players to be able to enjoy some more jackpots with an added twist.
What are Dream Drop Jackpots?
The unique Dream Drop Jackpots are available in selected slots and include five progressive jackpots:
MEGA:
Start value: $/€500,000
First must-win level: $/€1 million (eventually $/€10 million)
MAJOR:
Start value: $/€25,000
Must-win level: $/€50,000
MAXI:
MIDI:
RAPID:
What's unique about these Dream Drop Jackpots is that once you enter the Jackpot Round, you are guaranteed a Jackpot win.
The Mega and Major jackpots also have must-win levels where the jackpots must be released to some lucky player, as the jackpot amounts are not allowed to increase beyond the threshold.
While the Major jackpot has a fixed must-win level of $/€50,000, the Mega jackpot can grow substantially.
The Mega jackpot must be paid out before it reaches $/€1 million, but it will increase by $/€500,000 each time the Mega jackpot has been won twice until it ultimately reaches $/€10 million and stays there once that amount has been reached.
Which slots offer Dream Drop Jackpots?
Relax Gaming has communicated that we can expect to see the Dream Jackpots being released on many new titles until the end of 2023.
As of writing this, we can find the Dream Jackpots in slots like Wild Chapo Dream Drop, Temple Tumble 2, Volatile Vikings 2 Dream Drop, Snake Arena Dream Drop, and Neko Night Dream Drop.
The Dream Drop Jackpots have quickly become very popular among slot players since their launch in May 2022, so we expect to see many more slot games being released with these unique jackpots in the coming years as initially planned by Relax Gaming.
How can I win a Dream Drop Jackpot?
There are no skills involved, but instead, any spin during the base game can randomly award a Dream Drop Jackpot Entry Spin.
If you pass the entry spin, you are moved to the Dream Drop Jackpots Bonus Round, where you are guaranteed to win one of the five jackpots.
The bonus round can, for example, consist of falling blocks, a jackpot wheel, or some other element, depending on the slot you are playing.
Can I win millions from a Dream Drop Jackpot?
The Mega Jackpot has started on a must-win level of $/€1 million but will eventually increase to $/€10 million as more players win the Mega jackpot.
The first-ever Mega Jackpot was won in June 2022 as a lucky player won €997,779 on Snake Arena Dream Drop.
It was also reported that there had been more than 330,000 individual jackpot winners between the five jackpots, including 12 Major Jackpots and one Mega Jackpot winner until then.
We expect many more jackpot winners, including millions won, once the Mega Jackpots reach enormous amounts and higher must-win levels.
What do I have to bet to be able to win a Dream Drop Jackpot?
Contrary to, for example, the jackpot slot Mega Moolah where your chances of winning increase with higher bets, Relax Gaming has not communicated similar requirements to win a Dream Drop Jackpot.
So, we can't say with 100% certainty that betting with higher stakes increases the odds of winning the jackpot.
Choose your personal, comfortable bet level and start spinning with an equally high (or low) chance of winning a Dream Drop Jackpot.
For example, in Temple Tumble 2 Dream Drop and Snake Arena Dream Drop, you can choose to play with bets starting from $/€0.20 up to $/€100 per spin.
When is it a good time to play a Dream Drop Jackpot Slot?
The chances of winning a Mega or Major Jackpot are always super slim.
Still, it can be exhilarating to give it a shot once these two jackpots reach their must-win levels, as then you know that some lucky player will win the jackpot at any given moment.
But while it's fun and exciting to play a Dream Drop Jackpots slot now, remember that the chances of winning are still small as thousands of players worldwide are trying to win it simultaneously.
Where can I play Dream Drop Jackpot slots?
You can find licensed online casinos with Relax Gaming slots, specifically the Dream Drop Jackpots versions, available in their game catalog here at CasinoWizard.
These include popular casinos like Betsson, LeoVegas, and, Casumo, to name a few.
Do the Dream Drop Jackpots affect the RTPs?
The short answer is yes.
While slots like Temple Tumble 2 and Snake Arena Dream Drop offer average RTPs of around 94%, about 12% of all bets go into the Dream Drop Jackpots, leaving about an 82% RTP for regular payouts.
You don't often find slots with such low RTP levels – if you follow the CasinoWizards guidance as he points you toward the best RTP versions of each slot.
However, jackpot slots were never favourable in terms of RTP levels.
Instead, players choose to play jackpot games for the thrill and excitement, as any given spin could bring you millions in some cases.